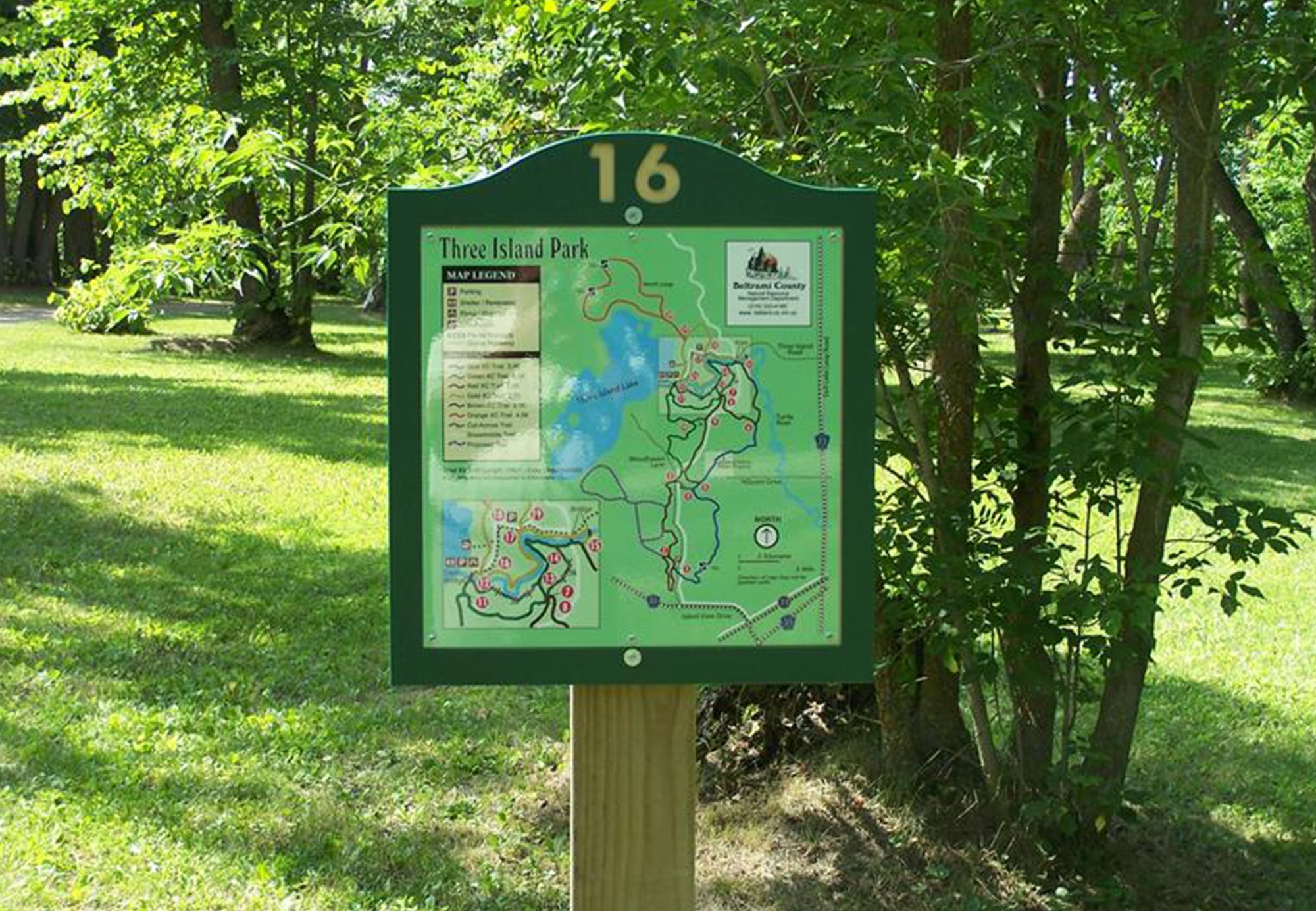 Map panel related services range from the design and layout of park & trail maps, athletic complex site maps, to the fabrication of sign panels, reassurance markers, arrows, and map backer panels.  We don't believe that one panel type fits all and that material selection should be based on communication goals, vandal resistance / durability demands, and budget. We can output signs from your prepared files or our design staff can work with your Planning Department or GIS staff in an effort to gain accurate mapping data and minimize design costs.
High Pressure Laminate (Embedded Phenolic Resin)
Think outdoor durable kitchen counter top. HD printed papers are impregnated with melamine resins and consolidated at extreme high heat and pressure. The result is a durable, fade resistant panel with unlimited design potential. This panel type, (available in 1/8″, 1/4″, 1/2″, 3/4″ and 1″ thicknesses), is self-supporting at a thickness of 1/2″ and can be mounted with a frameless pedestal. Non-self-supporting 1/8″ thick panels should be supported with a frame. HPL panels are warranted to not delaminate, peel, blister, crack or fade for a 10 year period from the time of purchase, as noted in the Limited Warranty.
TUFF Panel
TUFF Panel–Graphic marking film/protective over laminate combination –
This economical panel is similar to the graphics you pass each and every day on signs, vehicles, and super market floors. What sets it apart is the protective over-laminate. Developed specifically for demanding exterior applications (subways, bus stops, zoos, parks, etc.), it has twice the UV inhibitors than comparable protective films. Independent outdoor & QUA tests have proven 9+ years of UV protection in the Arizona desert. Thicker than comparable protective films, it offers good resistance to scratching and abrasions. This adhesive backed graphic marking film / protective over-laminate combination can be applied to polymetal, (aluminum / thermoplastic composite) or aluminum, depending on the application. In some applications, we might suggest protecting the edges by framing, placement in a "pocket", a corner radius or corner fasteners.