StoryWalk® Signs and Frames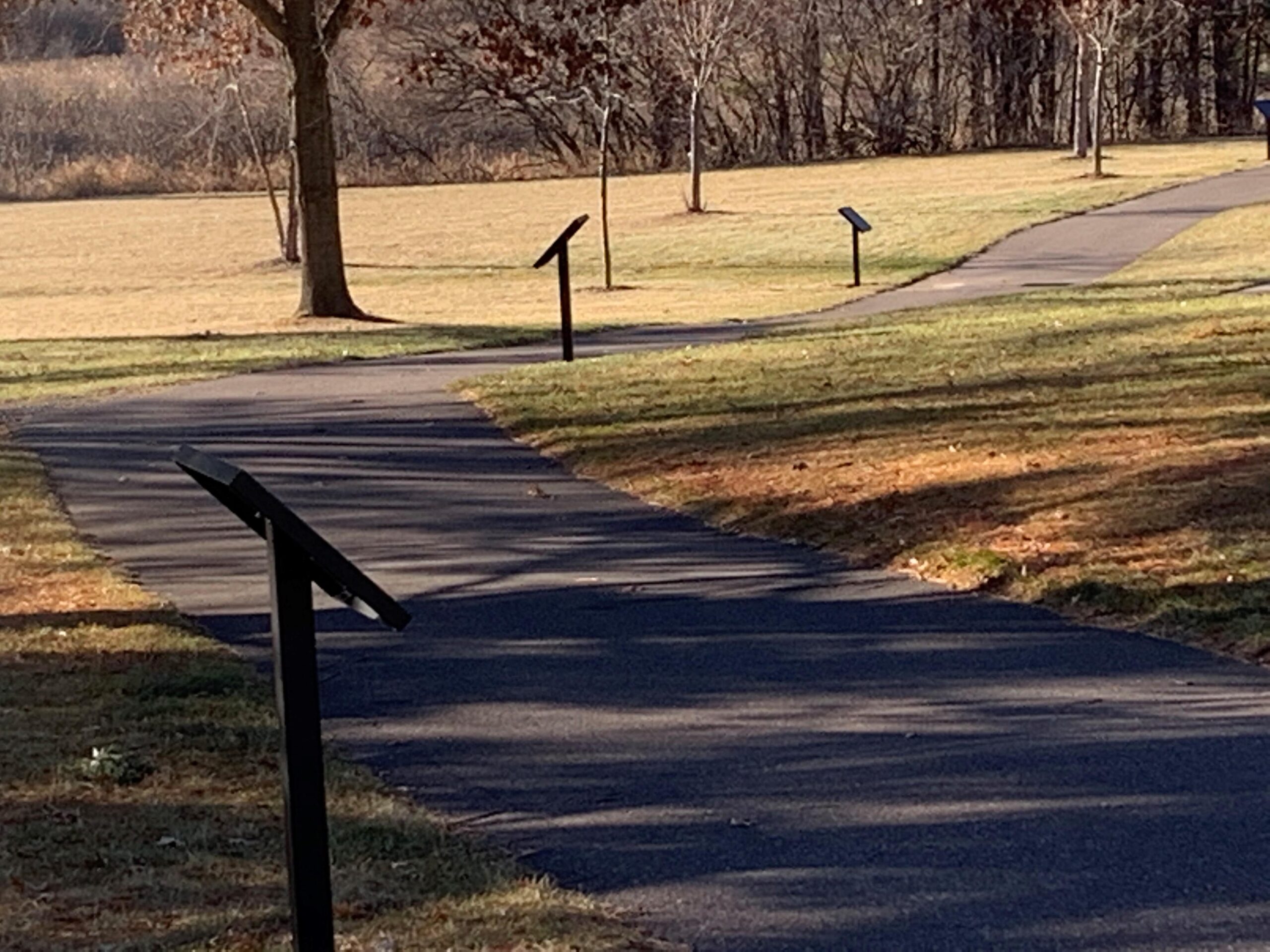 A StoryWalk® consists of the outdoor display of a children's picture book. Book pages are placed sequentially along a walkway or trail where kids and families can experience the joy of reading in the great outdoors. Vacker offers StoryWalk® frames with the same high quality and craftsmanship as our frames that have been installed in parks and trails throughout the U.S. over the past 20 years. We also offer outdoor durable StoryWalk® signs.
StoryWalk® Signs
Our StoryWalk® signs consist of a 18"x24" sign panel printed with outdoor durable inks, placed pages from a book (of your choice) that we secure in place and protect with an outdoor durable sign-grade protective over-laminate. The sign panel is an easy and affordable option that provides UV and graffiti resistance.
Advantages of our sign boards: satin finish protective overlaminate with UV inhibitors; washable and graffiti resistant; printed with UV resistant inks; intended as a "stand alone" panel – not sandwiched between clear acrylic sheets; won't wick moisture or trap bugs/dirt; no costly permission or project management fees;
How it Works: As easy as 1,2,3
What you do:
Select your book(s) (with pages no wider than 11"). Viewable portion of framed sign panel is 16.75"hx22.75"w.
Provide us with your own custom designed high resolution PDF file for each sign panel to be printed. Include a rectangle to represent the size and location of the book pages to be placed on the respective sign panel. Sample file set-up, templates (in InDesign, Publisher and PDF) and file preparation guidelines available to assist you. We offer editable templates for "Welcome" signs, book title signs and book page signs. Each template includes a StoryWalk® logo and physical activity inspired by fox character Riley Reader. The templates are editable and the logo and fox graphic can be swapped out with your own logo, text and graphics as desired.
Send us your prepared file as well and two sets of book pages (place a post-it note on each book page indicating book page number and corresponding file number).
What we do:
Print from your high resolution files
Place book pages on respective printed sheets
Secure book page in place with a two-step laminating process and mount to 3mm backer panel
Pack and ship StoryWalk® signs.
StoryWalk® Frames
Our StoryWalk® frames are constructed with the same high quality as our aluminum exhibits and frames that have been installed in parks and trails throughout the U.S. over the past 20 years. Frame construction is a bit different with a wider frame gap (for the insertion of book page sign materials up to 1/4″ thick) and to allow for enhanced drainage. The removable bottom frame rail allows for easy page insertion and changes. Aluminum sign posts are available with surface mount plates for surface mount installation or with post length for in ground installation. Aluminum post powder coat color options include black, NPS dark brown, NPS medium brown, NPS grey and forest green.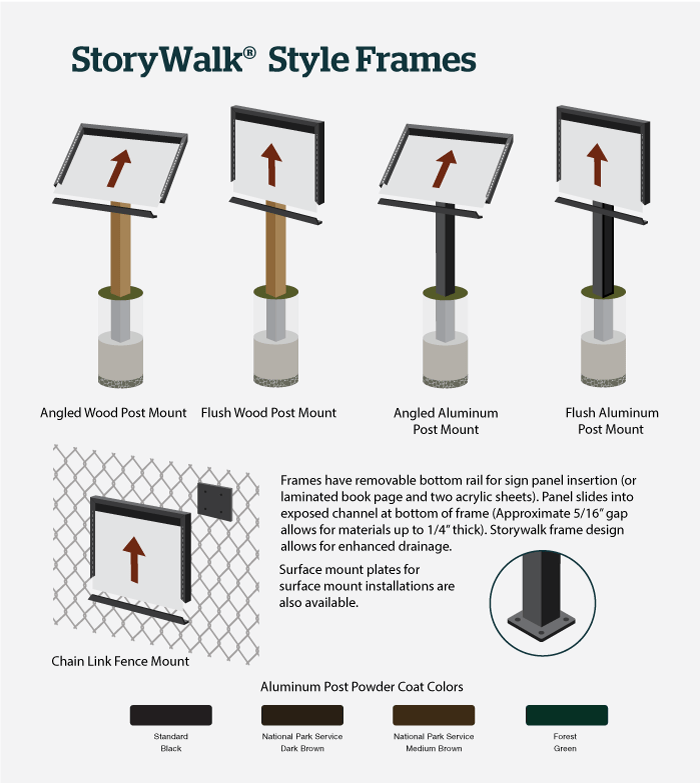 The StoryWalk® Project was created by Anne Ferguson of Montpelier, VT and developed in collaboration with the Kellogg Hubbard Library. Visit http://www.kellogghubbard.org/storywalk for more information.