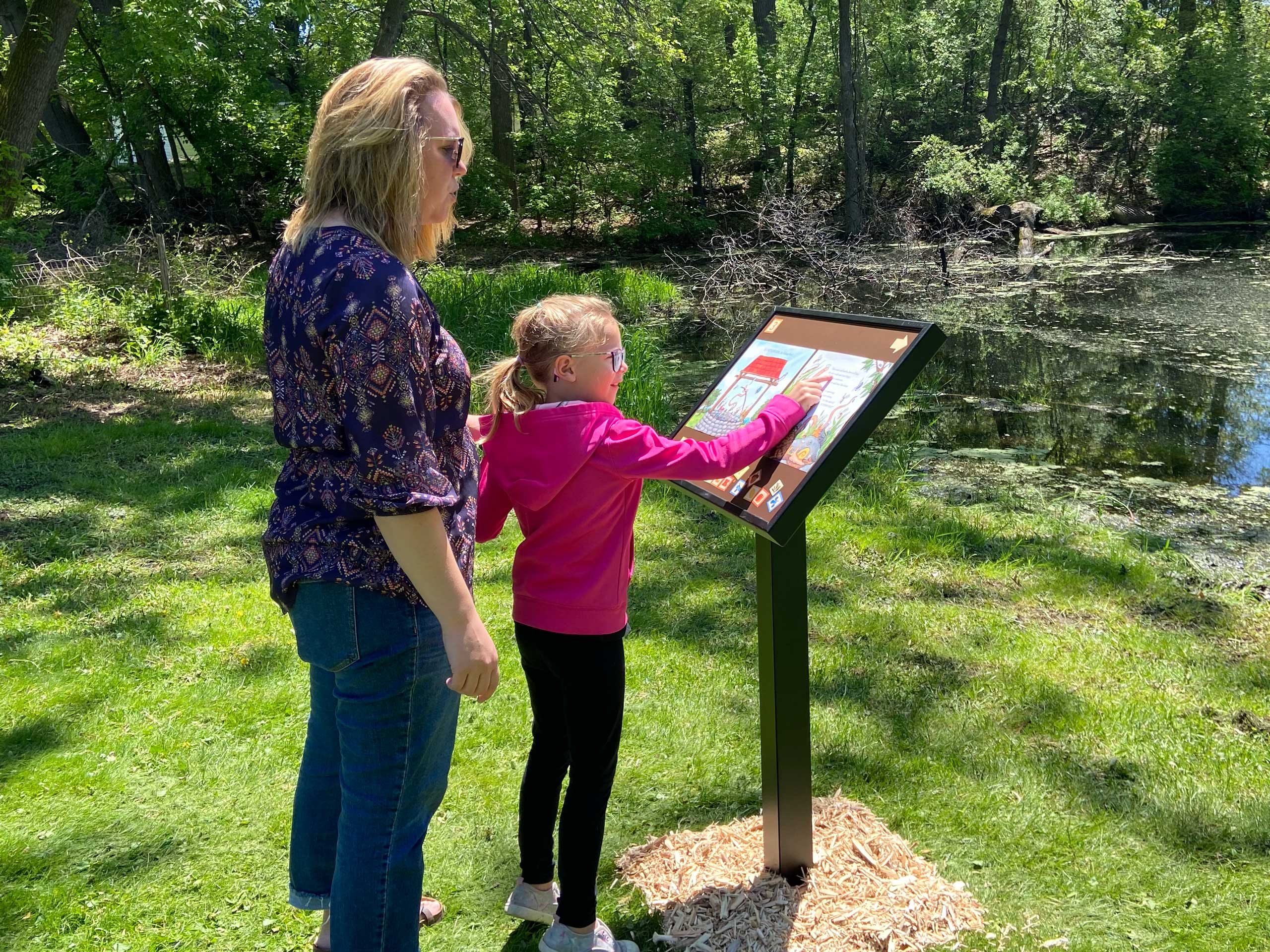 A StoryWalk® consists of the outdoor display of a children's picture book. Book pages are placed sequentially along a walkway or trail where kids and families can experience the joy of reading in the great outdoors. Vacker offers StoryWalk® frames with the same high quality and craftsmanship as our frames that have been installed in parks and trails throughout the U.S. over the past 20 years. We also offer optional outdoor durable NatureWalk signs.
StoryWalk® Frames
Our StoryWalk® frames are constructed with the same high quality as our aluminum exhibits and frames that have been installed in parks and trails throughout the U.S. over the past 20 years. Frame construction is a bit different with a wider frame gap (for the insertion of book page sign materials up to 1/4″ thick) and to allow for enhanced drainage. The removable bottom frame rail allows for easy page insertion and changes. Aluminum sign posts are available with surface mount plates for surface mount installation or with post length for in ground installation. Aluminum post powder coat color options include black, NPS dark brown, NPS medium brown, NPS grey and forest green. Wood post not included with frame for wood post mount.
Our Storywalk frames are intended for the display of an outdoor durable sign panel or the temporary display of laminated book page materials. Most SW displays consist of hot laminated book pages sandwiched between clear acrylic sheets. Bare in mind that inks used in book pages have little UV resistance and by their nature, are not well suited for the outdoors. For best results, we recommend using a 10 mil hot laminate with a sealed border to help protect book page materials. The use of the clear acrylic sheets (provided) will provide some additional protection, but will not result in a waterproof display or provide any only minimal UV protection. Our nature themed NatureWalk signs are an outdoor durable option for display in StoryWalk frames.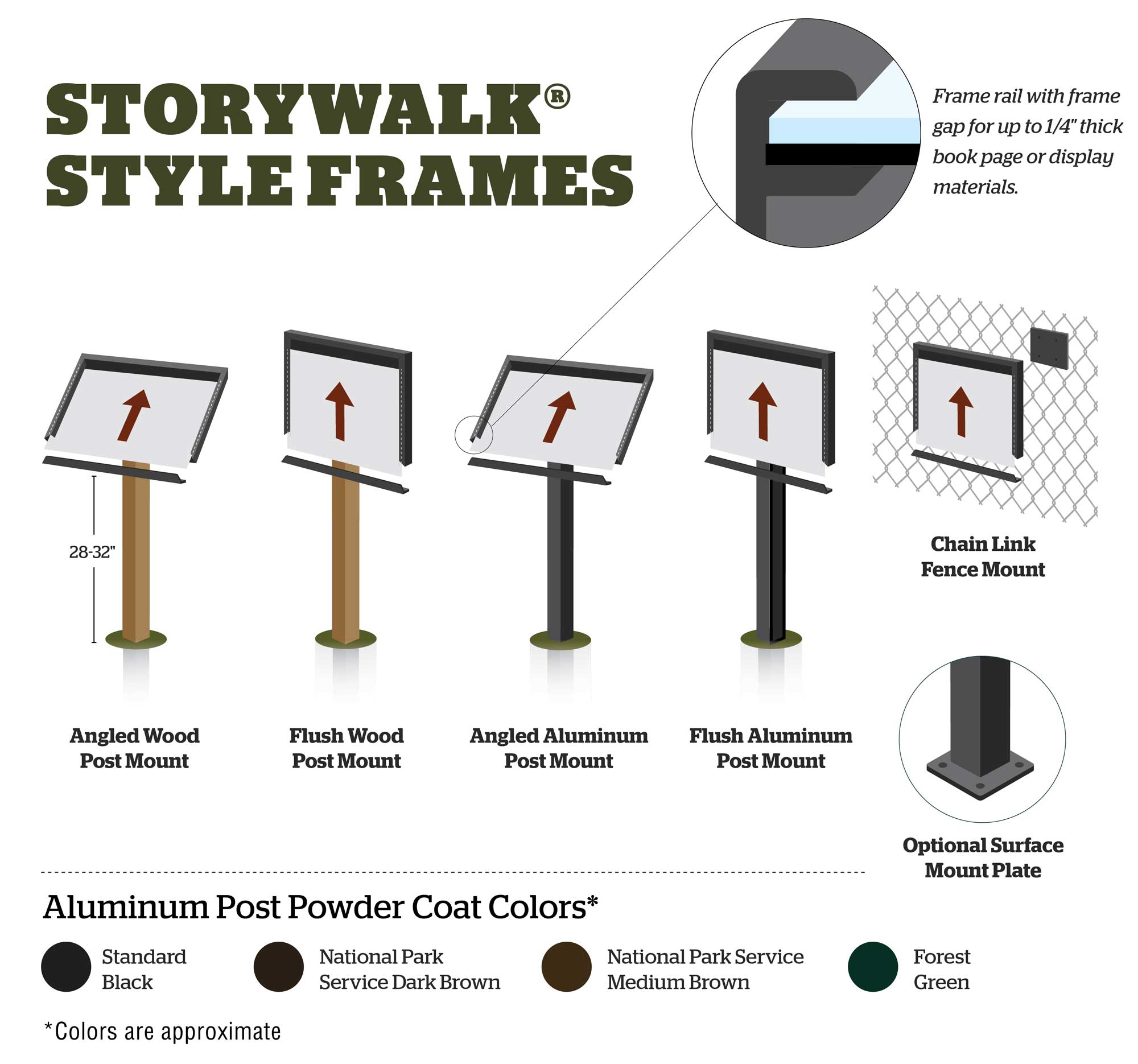 The StoryWalk® Project was created by Anne Ferguson of Montpelier, VT and developed in collaboration with the Kellogg Hubbard Library. Visit http://www.kellogghubbard.org/storywalk for more information.
Frame Assembly and Installation
For assembly and installation instructions specific to each product, see our resources section.
StoryWalk® Signs
The most common method for displaying book pages is to hot laminate actual book pages, mount to a board of some kind and sandwich between clear acrylic sheets. Bare in mind that inks used in book pages and digital paper prints have little UV resistance and are not intended for display in the outdoors. Some people report book page fading in a matter of weeks depending on the geographic location and associated UV exposure. Vacker can provide you with more durable StoryWalk® signs printed from your prepared digital files.  In this case, we would print directly from your prepared digital file (set up at 18×24) that includes the book page art.  To include the book page art in your layout, you will need to secure written permission and the digital version of the book from the publisher to incorporate in your 18×24 print file. These signs are outdoor durable,  provide UV resistance, and are intended to be used without acrylic sheets. Some, but not all, publishers are willing to grant permission for printing a digital version of a book for a StoryWalk® display. File preparation guidelines for Storywalk signs are available upon request.
NatureWalk Signs
Vacker is pleased to introduce an extensive series of affordable outdoor durable nature themed signs as an option for StoryWalk frames.  The signs are colorful, educational, and designed specifically to engage youth and families.  Content includes interesting information and fun facts supported with splendid imagery and delightful illustrations by Minnesota naturalist and illustrator, Emily A. Meyer.  We offer two design series – a Primary Series with lower word count and simpler vocabulary for ages 5 and older, and a Secondary Series for ages 9 and older. All designs are available in Vacker's durable sign panel material options and can be mounted with our high quality aluminum frames and frameless pedestals – perfect for outdoor education.  Signs are 18″x24″ in size, and designed with "best practices" for interpretation. Contact us for a PDF portfolio of our most up to date title offerings.