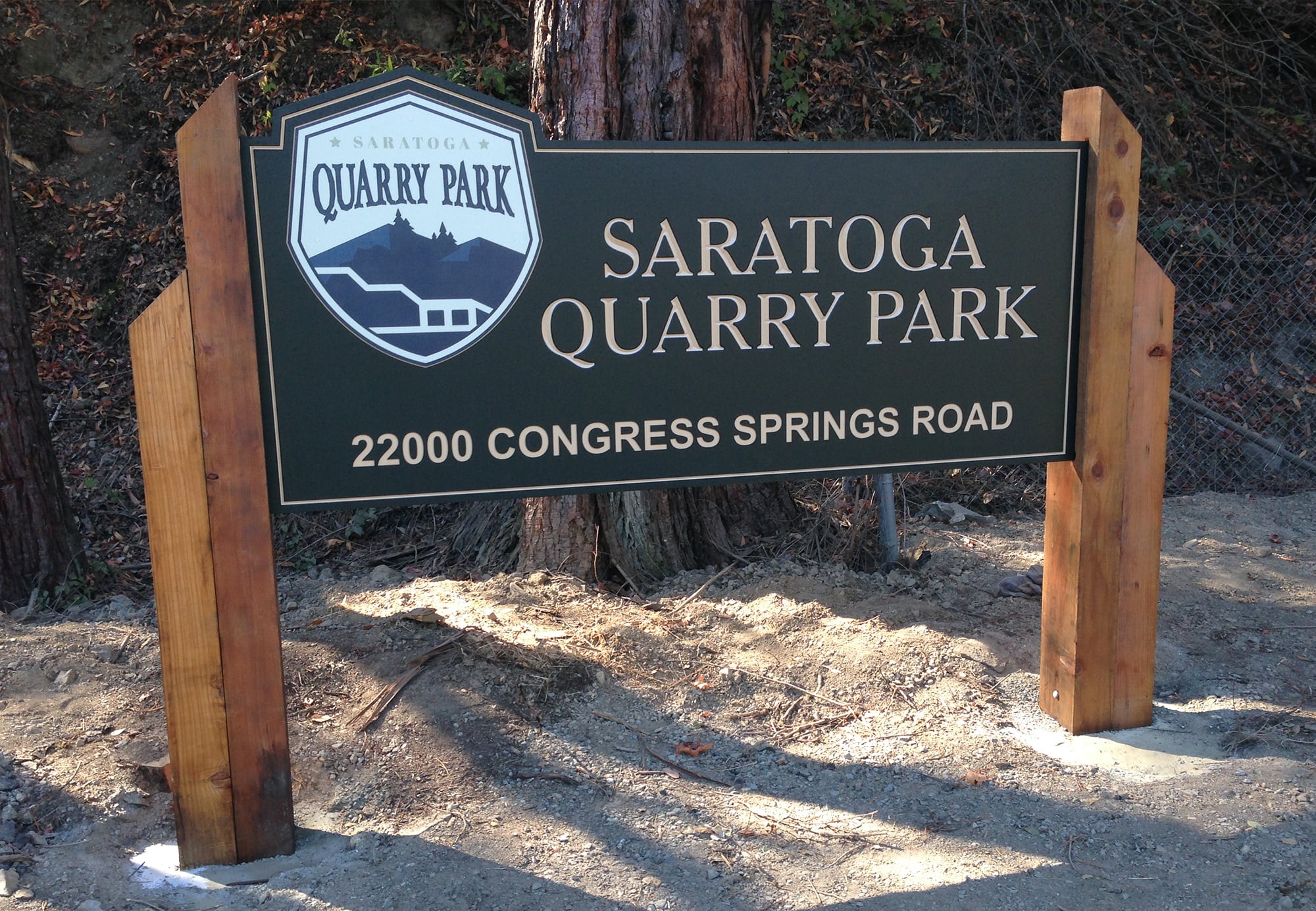 Vacker specializes in routed bi-color HDPE plastic sign panels. A co-extruded, 2-color sign board is routed or carved, revealing an interior contrasting color. The result is a durable, vandal resistant, low maintenance sign. HDPE plastic sign boards will never need painting and will not swell, rot, crack, chip or delaminate.
Design Process
With a talented design staff, Vacker is committed to excellence in design development, ensuring that every panel design reflects an appropriate image and identity for its site.
While clients are encouraged to select a preferred sign shape, text, and express a desired "look" or style at the outset of the design process, every panel is custom designed to achieve the proper proportions, elements, and type styles. Virtually any font, logo or design element can be incorporated into our signs.
Vacker offers both flat routing and dimensional V-groove auto-carving. V-grooved copy and elements add dimension and a look of distinction. Additional colors can be achieved with the use of resin color-fills. Complex logos and graphics can also be achieved with use of a logo insert.
In this case, a "pocket" is routed-out to accept a separate panel insert. Our insert panels utilize a premium quality protective over-laminate, ensuring excellent resistance to vandalism and the elements.
Colors
Vacker offers bi-color HDPE sign board in 14 color combinations as indicated below. Bi-color sign board is one color on the outside with a second contrasting color on the inside. When the material is routed or carved, the contrasting interior color is revealed.
Other color combinations are available by special order in limited quantities. Our standard HDPE sign board material is recyclable and contains some recycled content. 100% recycled plastic HDPE sign board is available in limited colors and quantities.
Colors shown are approximate. Color appearance can vary from one computer monitor to another. Please request a color sample to verify actual panel colors.

Shapes
Early in the design process, clients are encouraged to select a desired panel size and shape.
Then, based on the text, logos, and graphic elements to be included in the panel layout, the desired shape is refined to achieve pleasing visual proportions.
Following are some sign panel shapes for consideration, though altogether custom shapes are possible.
Common Mounting Styles
Routed plastic signs can be mounted and supported in a variety of ways, including side-mount and flush mount as shown above. When utilizing a side-mount method, posts can be "slotted" to accept the insertion of a panel extension as also shown above. Another method is to utilize angle aluminum brackets to create a channel to accept a panel extension.
Vacker does not pre-drill panels as this is best done in the field. Clients should consider their geographic location and associated footing requirements when determining required post lengths.
Expansion and Contraction
HDPE plastic sign material will expand or contract in response to temperature fluctuation. It is recommended that installation designs compensate for an expansion rate of about .03" per foot, or the possibility of .25″ or more over an 8′ length.
The material should be allowed to move freely. It is suggested that holes be drilled oversized by a minimum of .125"-.25". Any bolts / fasteners should not be overly tightened and provide for free movement of the panel and prevent cracking.