NatureWalk Interpretive Signs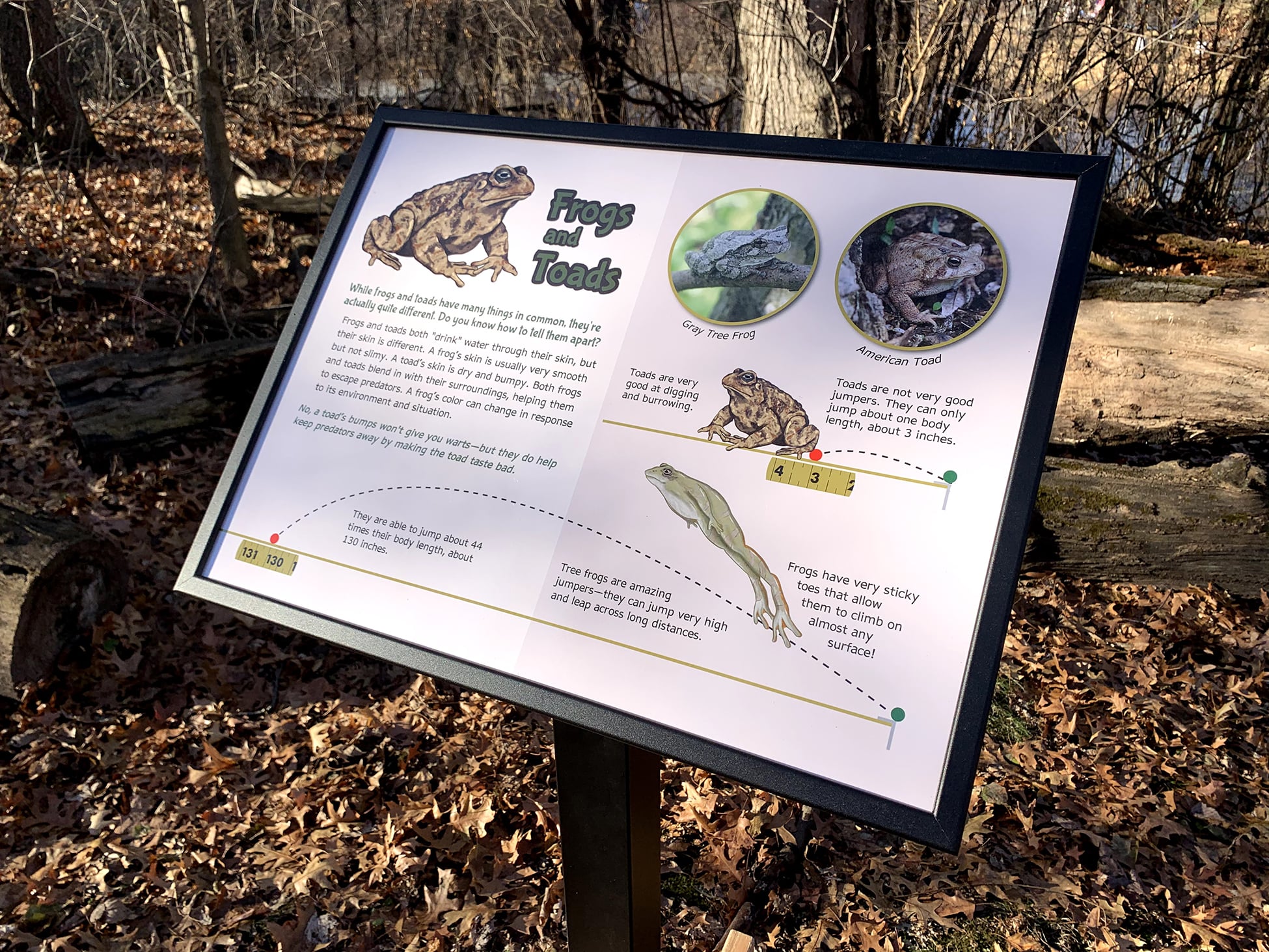 Vacker offers NatureWalk, an extensive series of standard nature themed educational signs developed for park and trail visitors of all ages. The outdoor durable sign panels are engaging, informative and particularly fun for kids! Our wide variety of offerings allow you to select topics specific to the habitats within your park or along your trail.
NatureWalk - Standard Nature Themed Signs
Vacker is pleased to introduce an extensive series of affordable nature themed signs.  The signs are colorful, educational, and designed specifically to engage youth and families.  Content includes interesting information and fun facts supported with splendid imagery and delightful illustrations by Minnesota naturalist and illustrator, Emily A. Meyer.  All designs are available in Vacker's durable sign panel material options and can be mounted with our high quality aluminum frames and frameless pedestals – perfect for outdoor education.  Signs are 18″x24″ in size, and designed with "best practices" for interpretation.
NatureWalk Sign Topics
Hiking is a great way to exercise and spend time exploring nature with family and friends. If park visitors are on the "look out," they can discover and observe cool plants, trees and wildlife.  NatureWalk signs will enhance your park and trail visitor's experience with effective interpretation of the nature they might experience along their way.  Panel subject areas include birds of all kinds; trees, plants and flowers; insects and spiders, signs and tracks; and small animals.  NatureWalk's extensive offerings allow you to tailor your sign topics specific to the habitats along your particular trail.
Panel topics include: Wild Turkeys, Migratory Birds, Great Horned Owl, Great Blue Egret, Canada Goose, Oak Trees, Maple Trees, Bees, Honey Bees, Wasps, Butterflies, Monarch Butterflies, Pollinators, Earth Worms, Red Fox, White-tailed Deer, Eastern Cottontail, Gray Squirrel, Racoons, Bats, Frogs and Toads, Crayfish, Garter Snakes and many, many more.  Don't see exactly what you're looking for? Let us know.
Custom NatureWalk Entrance Panel
Vacker Sign can provide you with a custom entrance sign panel that serves to welcome your visitors and introduce them to your NatureWalk signs. It can be customized to include your agency logo and contact information, as well as those of any sponsors or grant funding sources.  The panel might also include a trail or park map, park or trail rules, or the classic message – "Leave No Trace".  Custom entrance signs are available in 18×24 and 24×36.  A National Park Service cantilever style exhibit can be outfitted with a cross bar for mounting a sponsor sign.
Vacker also offers design and illustration services for the development of custom sign panels that serve to interpret something specific to your site.  Custom panels might interpret a historic structure, park history, natural resource management activities, or a unique natural resource.  Feel free to contact us to discuss these opportunities.